Join our Partner Program
As a member of the GROW|STRATEGY Partner program, you add value to your client's growth trajectory.

We equip partners with fresh new ideas and methods to help your clients grow their business using the proven GROW|STRATEGY Platform –
Using our wholesale solution, the white label platform solution with your branding or,
Using the classic platform (with our branding)
We provide the maps via our Blueprint on our Platform – you provide the navigation to your clients, supported by us.
Want to purchase the Partner Startup Bundle? Buy Now

Are you a suitable partner?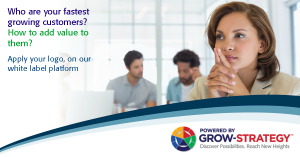 The GROW|STRATEGY Partner offering is applicable to:
Business consultants and Marketing firms who advise mid-market clients.
Accountants who advise small to medium clients.
Wealth Management Dealer Groups who manage Independent Financial Planning (IFA) practices.
Product Distributors with channel partners such as Resellers
Banks who lend to small to medium businesses.
Insurance companies who distribute via brokers
Shopping Centre Landlords who want to grow their retailers
Venture Capitalists who fund new start-ups.
more…
With GROW|STRATEGY Partner, you can communicate, collaborate, and connect with your clients – for a deeper level of engagement. You can equip yourself with new consulting skills, access research, download tools and stay informed on new features – all through our partner community.
Most importantly, with your clients permission, you can track and stay relevant to the execution of their growth plan.
Share this page with your network