Premier Support
$10 inc GST
This monthly fee provides Email and Hotline Support, with 2 hour response times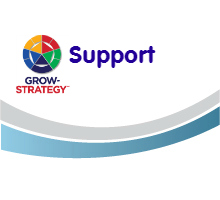 Product Description
Want to understand how to use the functions of the GROW|STRATEGY Platform? Don't know how to use a field or interpret a report?
Access Email and Hotline Support, with 2 hour response times, with this Monthly Fee. We're available by phone, email or online whenever you need support, from 8am to 8pm (AEST), 7 days a week.
Multi-channel service and support via the Phone, Web and Email
12×7 personalised phone service from experts, with two-hour response times
Support "health checks" to determine whether your company is using GROW | STRATEGY applications to its fullest advantage
Please note that Premier Support is subject to our terms and conditions – and is only available to eligible paying subscribers of the GROW|STRATEGY Platform.
Share this page with your network
You may also like…