Digital disruption is rewriting the rules of business and competition. With the fast changing customer landscape, incumbent brands are at risk of being left behind.
The alarming truth is that if you simply continue to do the same things that have brought you success in the past, your business will fail. Conventional assumptions about value creation are becoming increasingly flaky and unable to deliver continuous profitable organic growth. (See my earlier post outlining strategies for growing revenue.)
Even looking back just five years ago, the customer landscape is so very different. Back then, the majority of customers were looking for a balance of convenience and advice.
Customer polarisation
But not any more. These days, customers have polarised into two very different camps.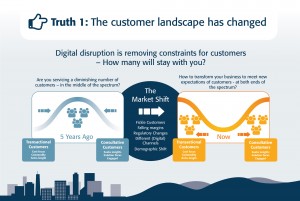 Click to Download Infographic
Transactional customers
At one end of the spectrum you have transactional customers who know what they want. They buy on price and convenience. To them, you're a commodity. It's very much an arms-length approach.
3 Key Questions to Surviving Digital Disruption (Deloitte Australia)
Top 5 Ways Millennials Are Disrupting Industries by Deborah Weinswig
How the customer buying landscape has changed by Prof. Neil Rackham (Sales guru)
Consultative customers
At the other end, you have consultative customers who value their  time and are happy to invest time to meet with you. They want advice to help define their problem(s). And they want hand holding. For them, it's all about expertise, the relationship, and trust.
Specific value propositions
So instead of servicing the middle ground, your overall growth planning needs to accommodate and reflect the shift in customer buying patterns so you can build a strong, differentiated customer experience.
Whether you serve one group of customers or both, you need to transform your business to meet new customer expectations. And this means creating specific value propositions, messages and communications for those customers.
Your approach to consultative customers needs to be so very different from how you service transactional customers. Customers demand relevant value propositions that meet their individual needs and preferences.
One side demands highly relevant specifically targeted value. The other simple wants good enough value at a low price. And if you don't give it to them, they'll simply seek out companies that can.
That said, it's worth noting that a transactional customer can evolve into a consultative customer when the need arises. And vice versa. Part of your growth planning is working out how you will serve them.
No middle ground
Whatever you do, don't try and satisfy everyone with the same approach. Customers have moved from the middle ground. If you continue to service this space, you'll soon be servicing no-one.
Read more of this article: Lead Article | Truth 2 | Truth 3
Share this page with your network