Back in an interview in 2010 Mark Zuckerberg, founder of Facebook admitted that in the early days Facebook didn't have a business plan. He also famously declared that "Startups don't need or have time to write a business plan."
While Facebook may be the poster child for success despite no planning, for the rest of us, growing your business without any form of growth planning or over-arching goals, is like steering a boat without a rudder. It's definitely not easy. You're at the mercy of the winds and the pounding sea, rather than being able to control your own destiny.
Organic growth is a top challenge
In fact, organic growth continues to top the list of challenges that the executive team struggles with. According to close to 60% of Senior Executive Teams (1)  said they struggled with organic growth which makes planning all the more vital.
Read more of this article: Lead Article | Truth 1 | Truth 2 
Notes: [1] Deloitte CFO Signals Report (3Q-2012)
Use Failure to Grow Your Business by Prof. Rita McGrath (Columbia Business School)
Watch: How to power your business growth?
No longer business as usual
While the market is now ripe with opportunities for organic growth, you probably have to adjust your business model or lines of business to capitalise on them. And no matter how good your idea, just try and seek funding without a solid business plan.
Whatever Mark Zuckerberg says, in our business environment, it's an absolute necessity.
But a growth plan is so much more than just a fund-raising tool. You use it to set your strategy, monitor progress and hold yourself accountable. When you're the founder, the only person holding you accountable for results is you. So your plan becomes your baseline for monitoring your progress.
Best strategy for growth
To unlock market potential, you need to identify the best choice from:
Selling more products to existing customers
Selling more products to adjacent markets
Adopting alternative distribution models
Launching new products to existing customers
Launching new products to new customers
Of course, determining which strategy your organisation should follow takes a methodical approach and a fair degree of insight. Get it right and growth planning allows you to confidently steer your business into the future.
We'll be looking at these different approaches for growth in much more detail in a whitepaper that we're planning to publish in the new year.
Read more of this article: Lead Article | Truth 1 | Truth 2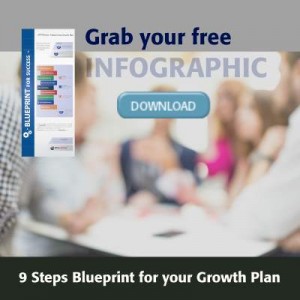 Share this page with your network