I had coffee earlier this week with an old friend who's the founder of a fast growing boutique PR company. She told me that she'd recently "broken up" with her accountant who she'd been with for about twelve years.
She used that exact term "broken up". For her, the relationship with her accountant was deeply personal. But, the time was right to move on. She felt that they had grown apart. And she just wasn't getting what she really needed out of the relationship: proactive business advice.
She's not alone.
Strategic partner
More and more business owners and managers are turning to cloud-based accounting services to look after the numbers and handle routine administration and compliance services. They no longer need the services of a traditional bean counter.
Instead, they want a strategic partner. Someone to understand the strategic nuances of their business. Someone to give them the know-how to drive it forward.
As cloud-based technology cuts through the vast swathe of compliance work and revolutionises the processing of transactions, enormous disruption is coming to the accounting industry.
In fact, according to a PwC report published last year on the extent to which jobs are at a high risk of computerization technology, accounting actually topped the list.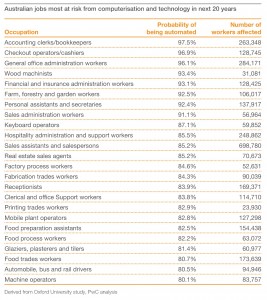 PwC wasn't surprised at the extent of digital disruption in the accounting industry. They had been planning for digital disruption for some time by offering new services. However, the same is not true for most accounting firms.
And while you may say you've heard it all before, it's not true. There's never been anything like the global disruptive forces that are transforming everything in your path.
Not only do they have far-reaching consequences for your clients, but how you do business and successfully compete against new competitors. These include subscription-based services.
In fact, Uschi Schreiber, EY's global  vice chair for markets and chair of the global accounts committee, makes it clear. She says that in order to survive, the accounting profession must confront disruption and introduce new models in order to transform.
Growth opportunities: Providing better business advice
The cloud is not a fad. Users armed with smartphones and tablets have fundamentally changed everything forever. Yet while many accounting tasks are being automated, it's certainly not all doom and gloom.
Instead of viewing digital automation as a threat, see it as an opportunity for value creation. New technology has both enabled and empowered accountants to provide more forward-looking services. And add more value.
Digital disruption provides a springboard for growth
With the right real-time data to hand, it's no longer about recording the past. Accountants can now provide ever more meaningful advice and pinpoint areas of their clients' businesses that are ripe for investment and growth. Using data to predict future performance, spot trends and provide market analysis, accountants can maintain and future-proof their status as a trusted advisor.
Get rewarded with a relationship "renewal" instead of a "breakup"
For the accounting profession, digital disruption offers a value proposition like no other.  As the traditional "trusted advisor" of the small business owner, disruption presents many opportunities to add value to your clients' businesses.
It's time to work out how you're going to embrace the new normal and plan for organic growth:
Assess the impact: The biggest impact of disruption is on a massive reduction in compliance work. Have you assessed which parts of your firm are most vulnerable to digital disruption?
Create new and related advisory services: Small business owners want their accountant to get more deeply involved in growing their business. The billable hour is dead. Have you looked outside what is traditionally your own service menu to identify new opportunities for value creation?
Help your clients in new ways: Just as digital is disrupting your accounting business, it will have a similar impact on your client's own business. Have you considered how to leverage innovation to help your clients face up to digital disruption?
Remember, digital disruption, is not a technology issue. It's an opportunity to create a new business model to drive your growth. With the considerable disruption in the accounting industry, relationships with your clients are also changing.
Even your extremely successful, tried and tested old business model won't work anywhere near as well against new disruptive forces.
It's hard to compete against lower cost and more convenience.
These days, the best client relationships are those where you are seen as your client's business advisor. Your clients just don't need bean counters like they used to.
Share this page with your network